The world's working-age population is shrinking faster than expected, leaving fewer people to support a growing number of seniors, according to the Bloomberg Sunset Index.
Bloomberg Sunset Index uses statutory retirement ages in 178 nations. Conventional measures of old-age dependency calculate the ratio of people ages 65 and older with those of working age: 15 to 64. But many people stop working well before 65: Men in 66 percent of the 178 countries Bloomberg evaluated and women in 78 percent can begin receiving retirement benefits earlier.
So the Bloomberg index calculates dependency based on each country's statutory pensionable age, revealing substantial differences in some places with 2016 estimates from organizations including the World Bank and United Nations. For instance, Nigeria, with a statutory pensionable age of 50, has only 4.8 workers supporting each senior, compared with 19.4 as indicated by conventional measures. Russia has 2.4 instead of 5.1, and Colombia has 4.5 instead of 9.4.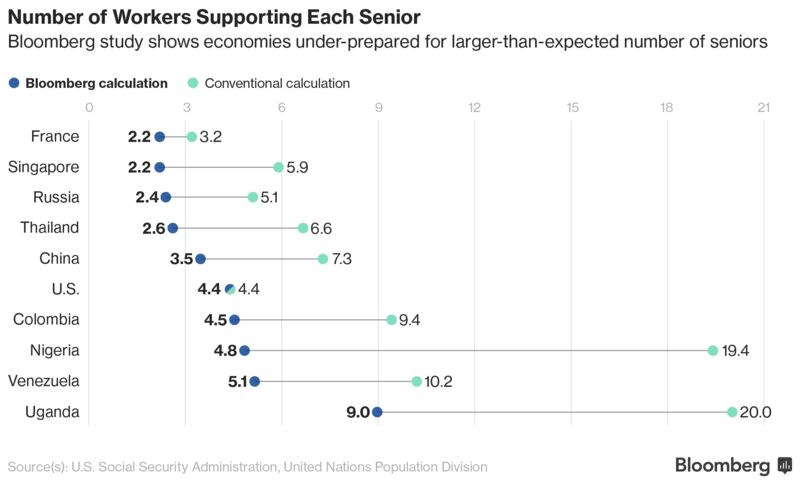 As seniors increasingly outnumber people still in the workforce, pressures rise on investment pools, medical systems and funds to build economies for future generations.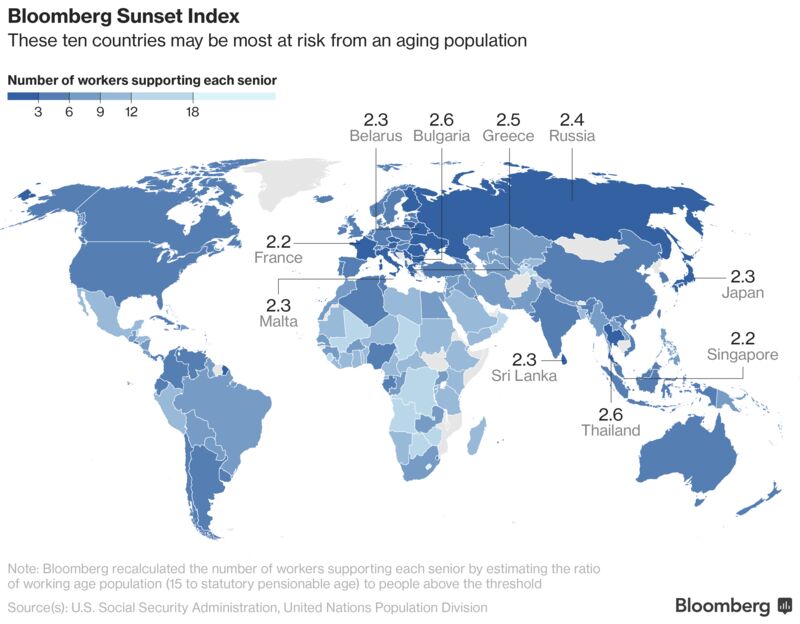 Some countries raised retirement thresholds in the past four years. In France, it's now 61.58, up from 60. For Greek men, it's 67 instead of 65. For Italian women, it's 65.58, up from 62.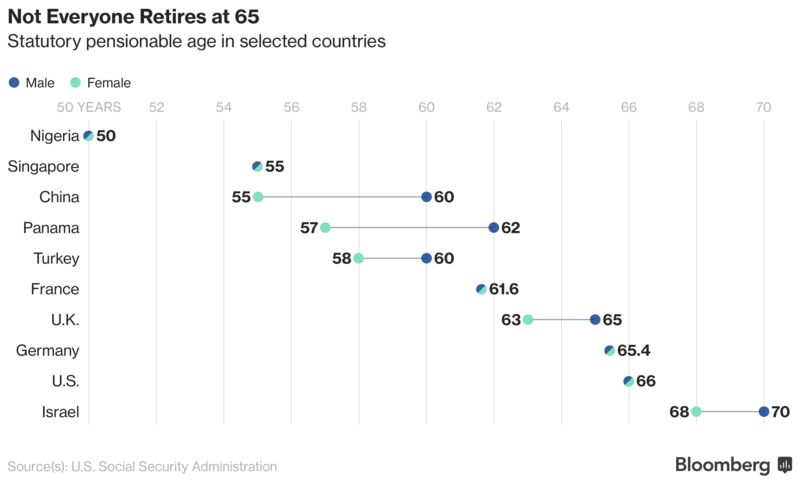 Source: https://www.bloomberg.com/news/articles/2017-02-01/shrinking-worker-pool-puts-pressure-on-programs-for-older-folks
Disclosure: This website consists of the public articles, and this communication is for informational purposes only. Nothing herein should be construed as my opinion, solicitation, recommendation or an offer to buy or sell any securities or product, and does not constitute legal or tax advice. The information contained herein has been obtained from publicly available sources believed to be reliable but we do not guarantee accuracy or completeness. Do not act or rely upon the information and advice given in this publication without seeking the services of competent and professional investment, legal, tax, or accounting counsel.
Comments
comments